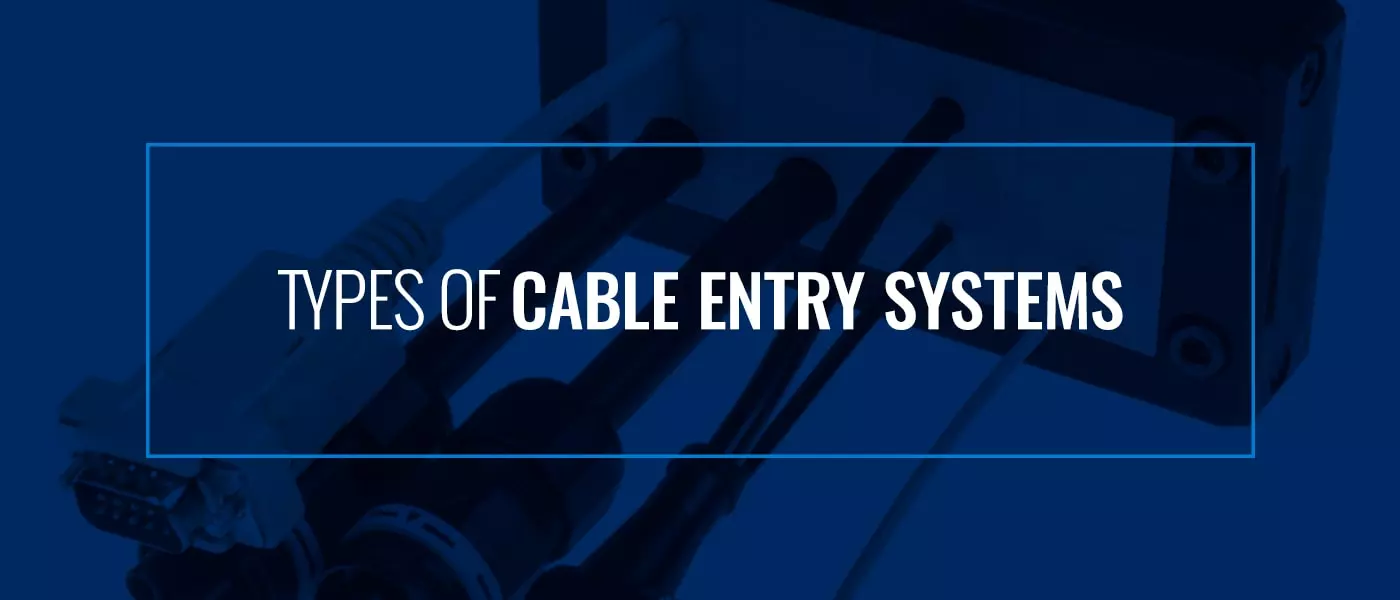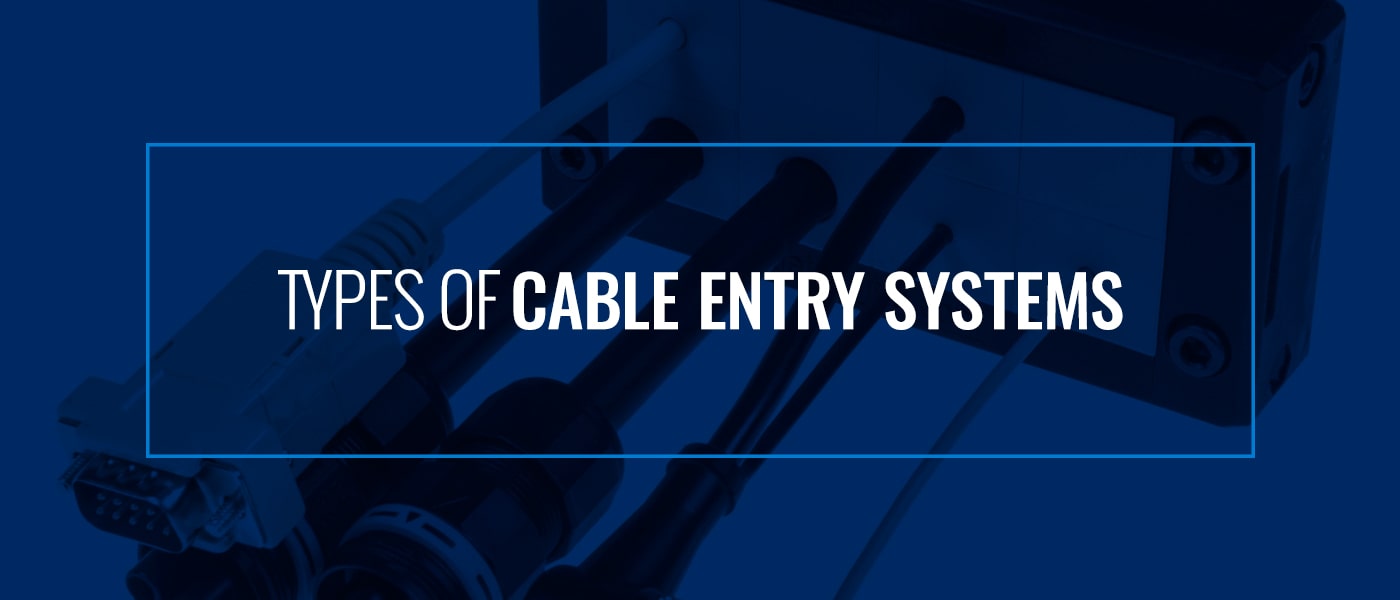 Cable entry systems are crucial to the proper functioning of electrical systems. They route your cables and wiring properly and keep them safe from damage. Finding multidimensional cable management solutions for cable entry systems allows users to place multiple cables in electrical devices. These cable entry systems also help protect cables from damage and keep them securely attached.
If you're in the market for cable entry systems, keep reading to learn more about what they are and how the two primary types of cable entry systems work. Additionally, you'll find out more about the primary parts used with cable entry systems.
What Are Cable Entry Systems?
Companies and individuals utilize cable entry systems to route pneumatic and hydraulic hoses, corrugated conduits or electrical cables into control panels, electrical enclosures, machines and switch cabinets. Additionally, you can find them in roll stock, ships and heavy-duty vehicles. Requirements for cable entry systems often come down to various factors, such as integrated strain relief and ingress protection rates.
Types of Cable Entry Systems
When selecting the right cable entry system, it's important to know about the two primary types. Essentially, one of these systems comes with connectors while the other kind doesn't. Learning more about the difference between the two primary kinds of cable entry systems can assist you as you choose the right one for your needs.
Find out more about the two main types of cable entry systems below:
1. Cable Entry Systems for Cables Without Connectors
Cable entry systems for cables without connectors don't come assembled with connectors. When electrical, hydraulic or pneumatic lines and stand cables are routed through panels or machines, technicians can seal the cut-outs these cables pass through. Seals for these kinds of entry systems are usually gland plates, self-sealing grommets or cable glands.
These sealing devices help protect the machine or enclosure from contaminants like liquids, dust and dirt. For times when the technician is entering only a single cable or a few cables, self-sealing grommets and cable glands are the standard choices. When you're routing many cables with different diameters, a gland plate is a better selection. With certain cable glands, technicians may be able to achieve ingress protection classes, with some going up to IP66/IP68 or allowing high cable densities.
As an alternative to hygienic stainless steel cable glands, membrane-based cable entry plates can be utilized in environments where hygiene is essential, such as those in the pharmaceutical or food industry. Since the cable entry plates lack recesses that allow dirt collection and feature a very smooth surface, they're well-suited for the industries mentioned previously. They're also crafted out of Food and Drug Administration (FDA)-compliant material.
2. Split Cable Entry Systems for Cables With Connectors
Split cable entry systems for cables with connectors, otherwise known as pre-terminated systems, already come with connectors assembled. Since they feature split cable entry, they come with a couple advantages. One benefit is that users don't have to void their pre-terminated cables warranty, as the connectors don't have to be soldered or cut after cable entry.
Another advantage of these kinds of cable entry systems is how they're usually constructed around the existing lines. Most split cable entry systems consist of one or multiple split sealing grommets and a split hard frame. Generally, frames are constructed out of plastic, but they can sometimes be crafted with stainless steel for hygienic applications. Additionally, the grommets usually consist of elastomer.
A primary feature of this cable system is that a cable-diameter-matching grommet is installed around the cable. The grommet is also placed inside the cable entry frame. Because of this installation practice, the cables have greater ingress protection and feature strain relief.
Parts Used With Cable Entry Systems
Both types of cable entry systems use several different parts to function properly. If you're in the market for cable entry systems, you may want to learn more about the primary types of products used in them. By knowing more about these components, such as glands, frames, plates, boxes and grommets, you can be better prepared to outfit your cable entry system with the very best.
Learn more about the primary kinds of cable entry system parts below.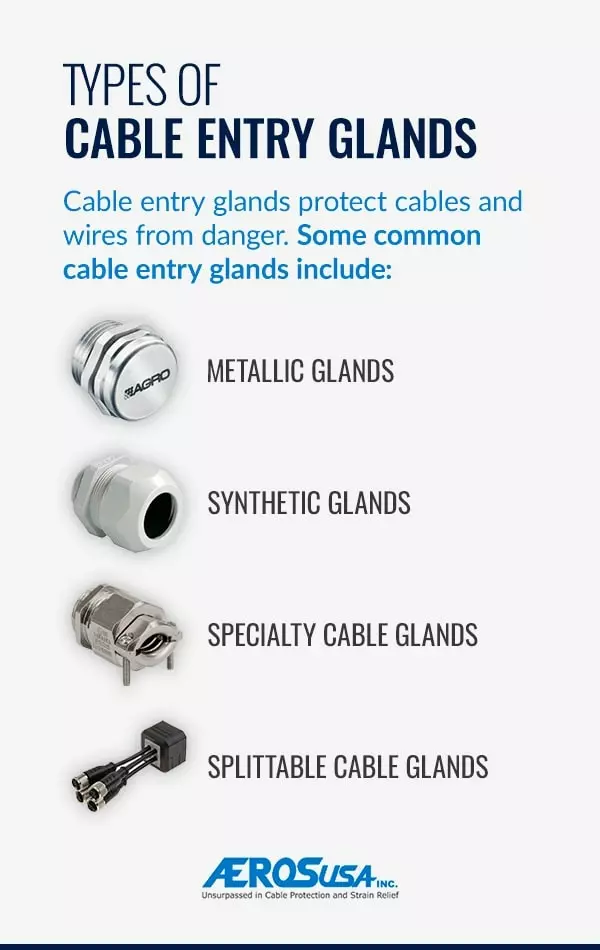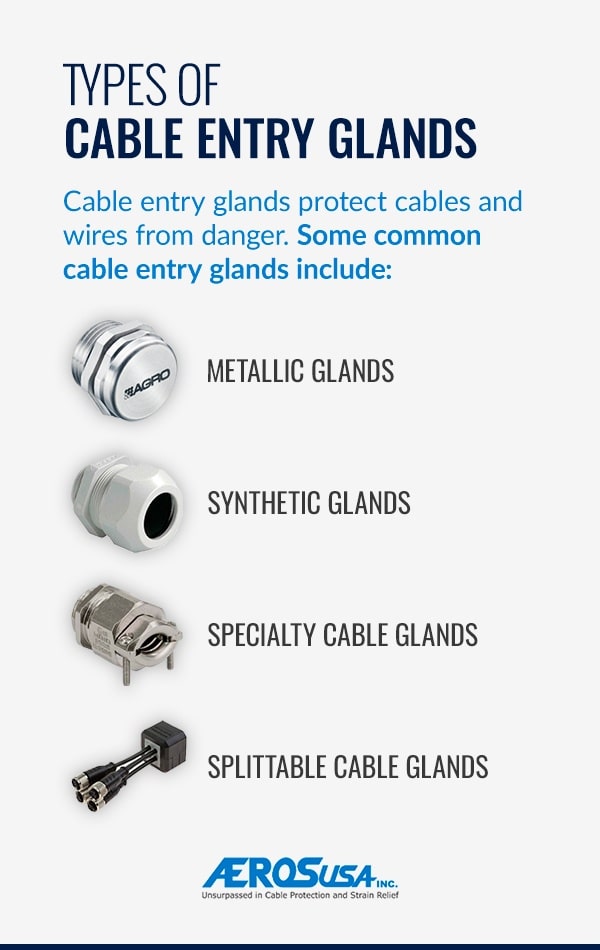 Types of Cable Entry Glands
Cable entry glands protect cables and wires from danger. Sometimes, you'll see them called cable fittings, cable connectors, cable strain reliefs or cord grips. A technician will attach cable glands to cable's and wiring's ends and then secure the cabling to a piece of equipment. Some common cable entry glands include:
Types of Cable Entry Frames
Manufacturers design and produce cable entry frames to fit around cables and keep them safe while attached to a piece of equipment. You'll usually find frames mounted on walls and enclosures. These cable entry frames come in multiple sizes, with most designs based on drilling templates and cut-out dimensions for standard industrial connectors. Generally, you'll find round cable frames in metric standard sizes, such as those between M16 and M63.
Depending on their application, cable entry frames need to be constructed in a way that fits various standards, such as UL recognition, railway standards, IP Ratings or DNV-GL listings. The relevant standards must be met, as cables are often utilized in potentially dangerous or explosive environments and need to be protected appropriately.
One of the primary types of cable entry frames is a splittable frame model. These frames aim to make cable installation more cost-effective and efficient. Top frame inserts, like SPP M, SPP and SPG, are crafted to easily accept pre-terminated cables. Frame inserts such as an SPG M accept non-terminated cables.
Since various frame insert sizes exist, you can find a singular frame compatible with several kinds of cable sizes and types. Splittable frames also often come with either 90-degree or straight designs. Additionally, they can be compatible with stainless steel screws for more convenient assembly.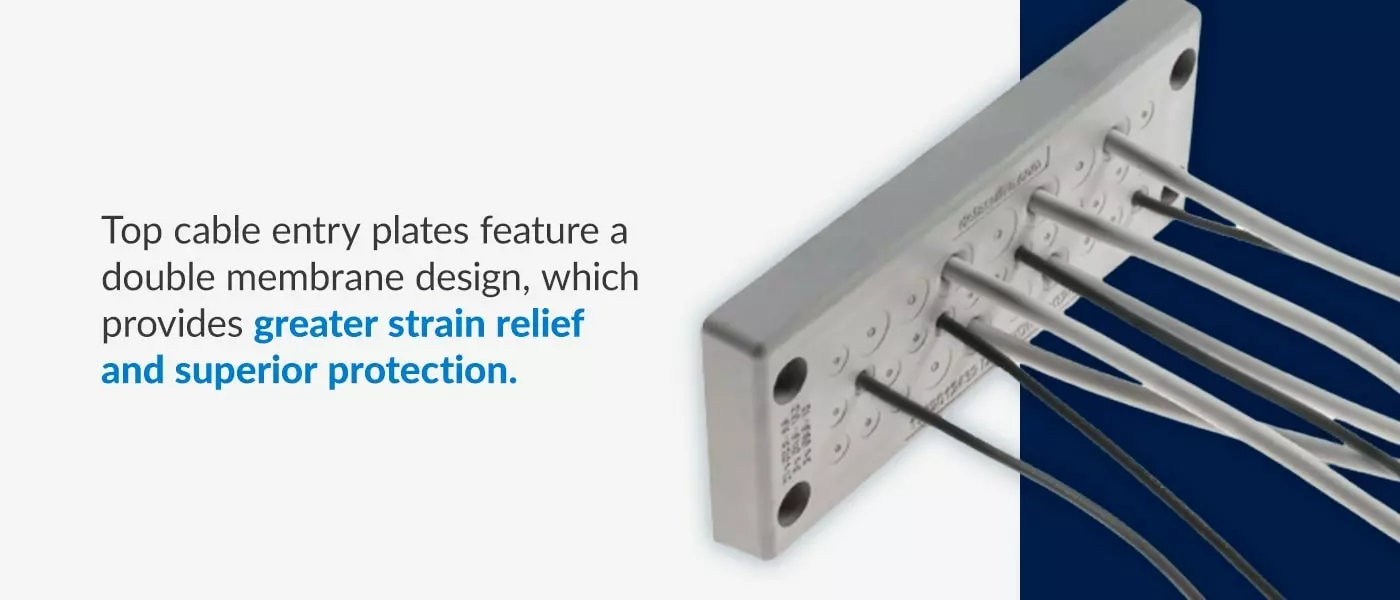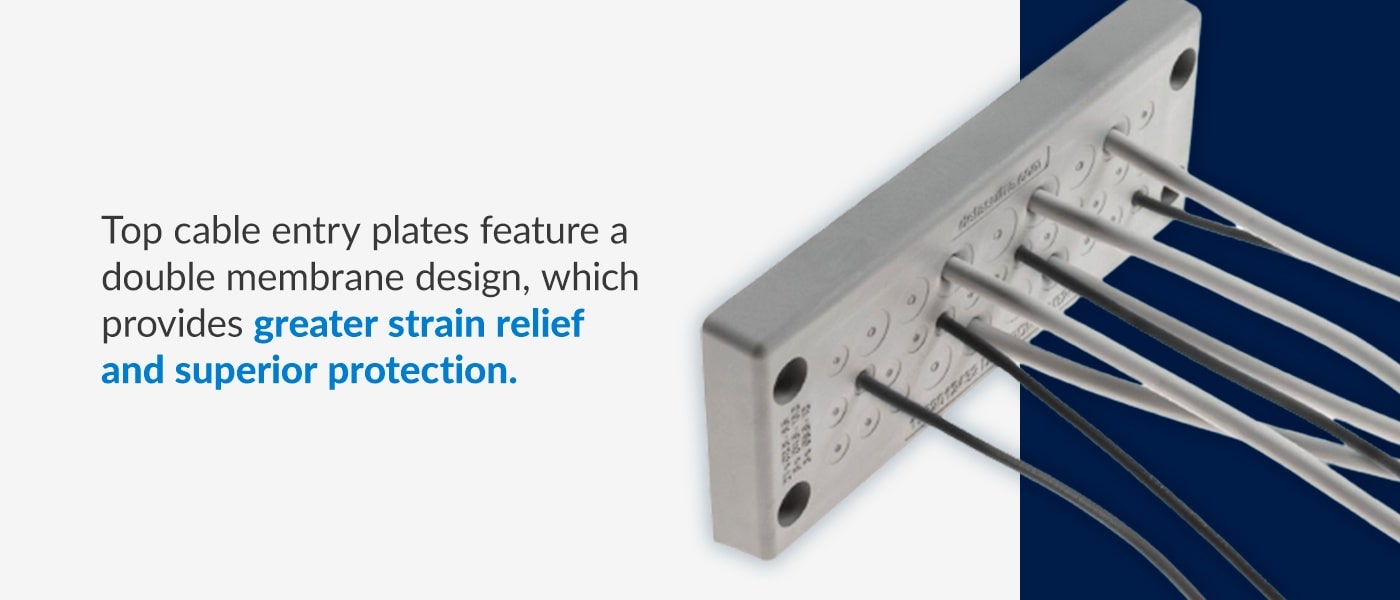 Types of Cable Entry Plates
Generally, there are two main types of cable entry plates: rectangular or square plates and round plates. The standard square or rectangular cable entry plates connect cables to a cable entry system and various pieces of equipment. In the past, companies needing to install multiple cables into a single assembly would have to drill openings and use cable glands to install the cables through the holes.
Now, a standard cable entry plate makes installation much easier, without any drilling required. These plates are built with multiple cable entry points and house multiple cable diameters. You can find them in designs as small as four entries per plate and as large as 72 entries per plate. Top cable entry plates feature a double membrane design, which provides greater strain relief and superior protection.
For times when you're trying to feed cables into preexisting designs, you'll likely have to use a threaded hole. Since feeding cables into a single opening can be very difficult, the industry produced round entry cable plates to make it much easier to feed cables into a preexisting design.
Due to the round cable entry plate's ability to be threaded into a piece of equipment or application, you can fit multiple cables into a single plate. These round cable entry plates can house several kinds of cable diameters and be outfitted with threads ranging from M20 to M63.
Types of Cable Entry Boxes
Cable entry boxes provide an enclosure for cables and other cable entry parts, like cable glands. Generally, they're used in external applications, where the cable entry system needs protection from the weather and other environmental factors. For instance, ultraviolet (UV)-resistant and waterproof cable entry boxes provide protection from environmental dangers.
You can find these boxes in various configurations. Some feature integrated threads that allow cable glands to be directly mounted into them. These boxes can also consist of multiple pieces of molding components for greater strength.
Other boxes feature cable entry with a self-sealing diaphragm. The boxes that utilize these kinds of self-sealing diaphragms don't require any extra tools, and they can help companies save on labor. When you need a cleaner assembly for wall cable outputs, you may want to go with a box featuring a self-sealing membrane located in the ground.
When you look for a cable entry box, examine key factors such as its IP protection class and temperature range. Additionally, you may want to look at how many openings it has and what type of material it consists of. By looking at these specifications, you can invest in a cable entry box meeting your cabling requirements, which will help you improve your efficiency and save money within your facility.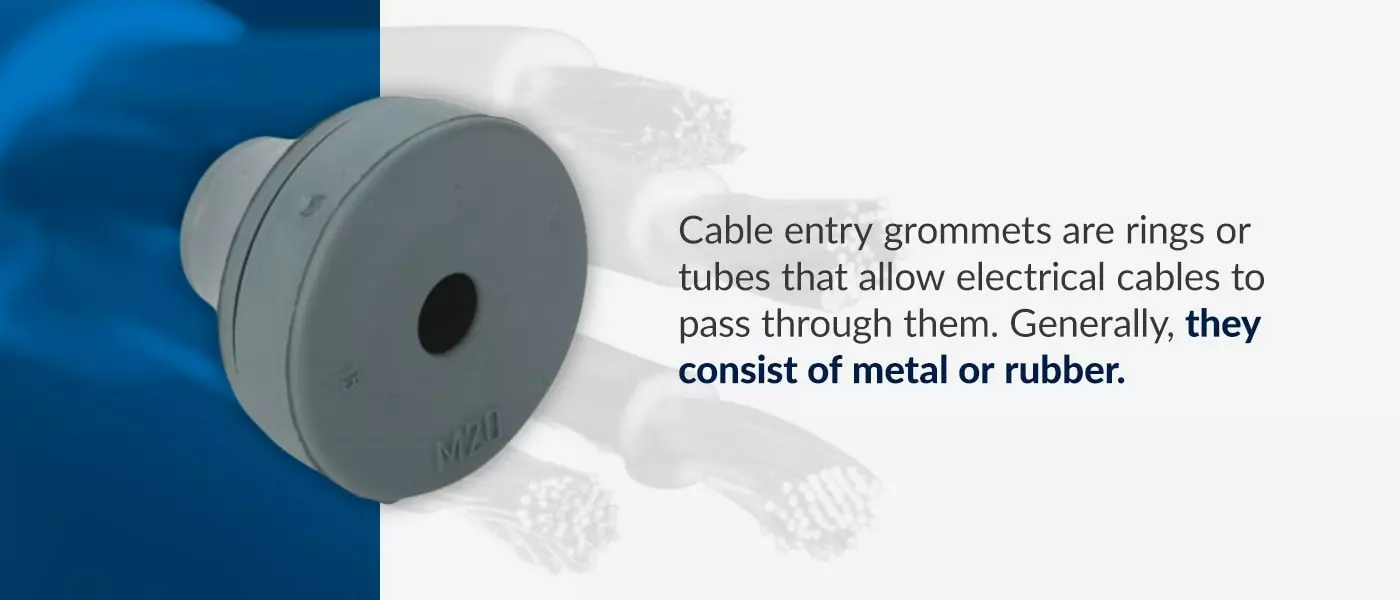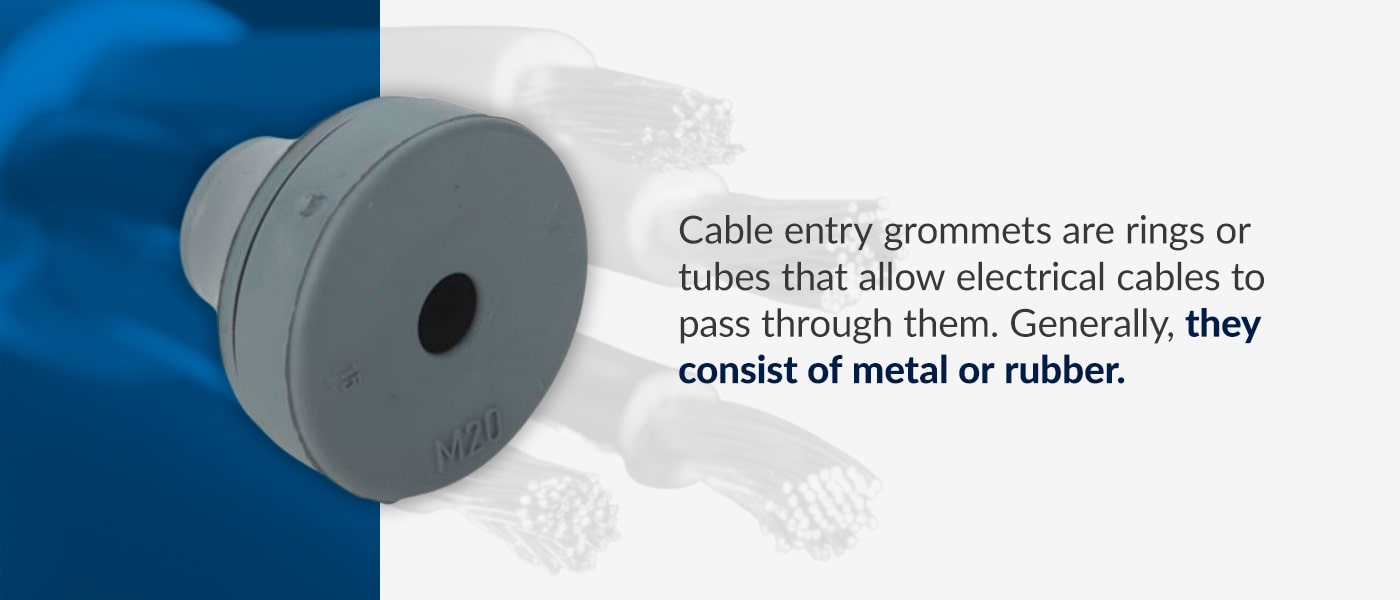 Types of Cable Entry Grommets
Cable entry grommets are rings or tubes that allow electrical cables to pass through them. Generally, they consist of metal or rubber. They primarily seal, protect or improve the friction of cables passing through them.
You can review some primary cable entry grommets below:
Quickseal cable grommets: Quickseal cable grommets are used for fast cable installation. These kinds of grommets, such as the GSQ, provide exceptional protection due to their pushout-membrane. They're also halogen-free and feature a weatherproof and chemically resistant construction.
Blind grommets: Blind grommets allow cables without a connector to perforate them. Top-quality blind grommets, like the SPG K, feature a blind insert that's pierceable up to 32 millimeters. These grommets comply with the necessary industrial standards, such as UL 157 and ASTM IRM 903. They also feature a high IP rating and are silicone- and halogen-free.
Multi-cable grommets: Multi-cable grommets do just as their name implies — they handle multiple cables at once. For systems with multiple cables, these grommets can make installation much easier and protect several cables at one time. One example of this is the SPP ASI grommet, which allows users to house two ASI cables inside it.
Types of EMC Cable Entry
EMC cable entry products include electromagnetic compatibility. These EMC protect shielded cables from electromagnetic interferences. AerosUSA carries multiple types of EMC cable entry products, which all provide easy and efficient shield cable grounding. Learn more about some of the top EMC shield clamps below: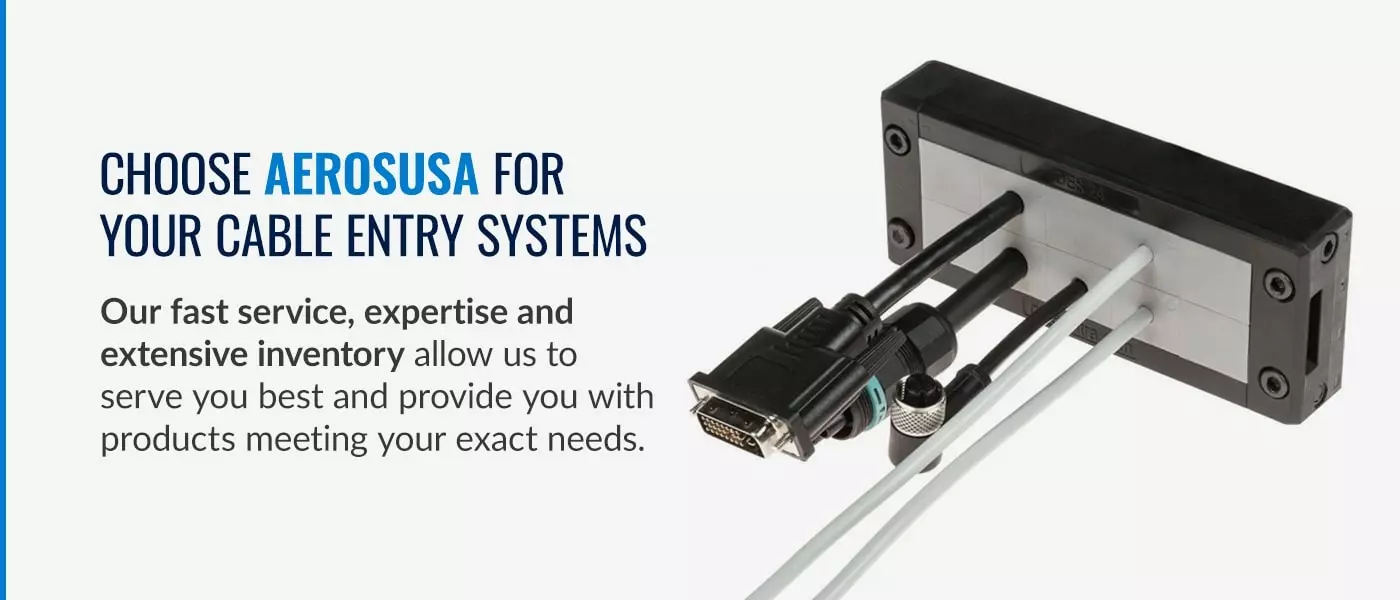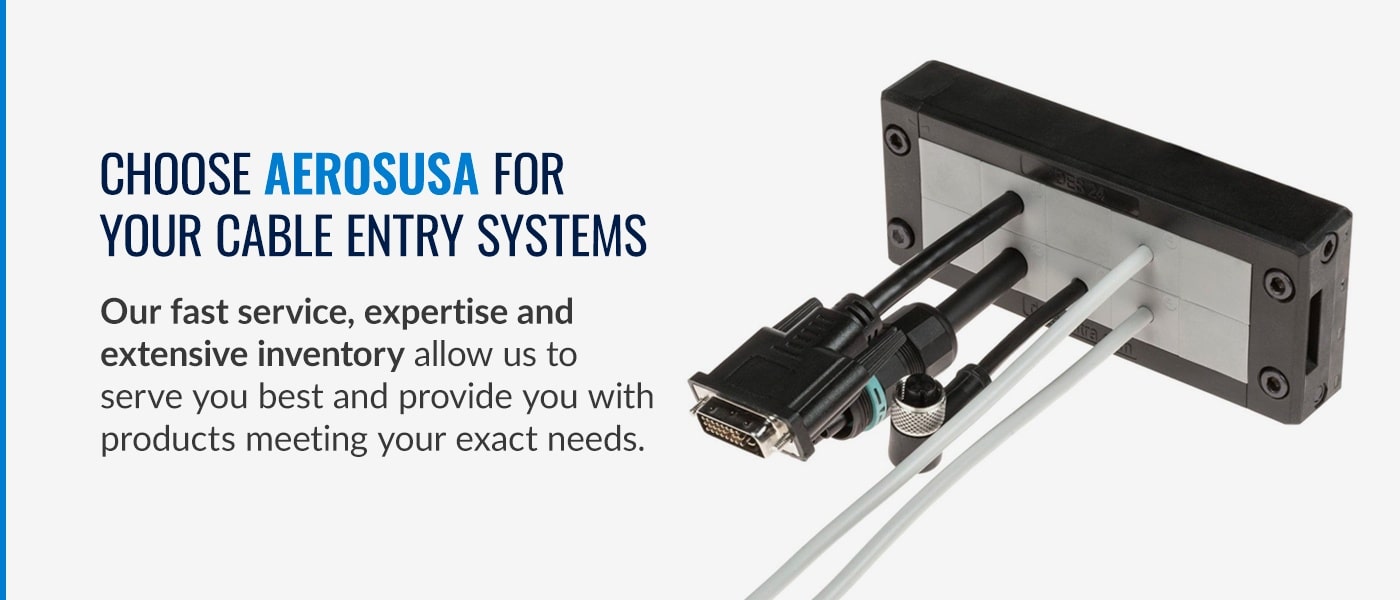 Choose AerosUSA for Your Cable Entry Systems
At AerosUSA, we provide our clients with high-quality cable entry systems designed to last a long time and keep your cables secure. Our products' fast installation reduces our clients' labor costs, and their construction makes them appropriate for environments requiring high flexibility. Our fast service, expertise and extensive inventory allow us to serve you best and provide you with products meeting your exact needs.
Browse our selection of cable entry systems products if you're looking to update your cable entry system. If you have any questions, feel free to contact us today.