OUR FLEXAQUICK TECHNOLOGY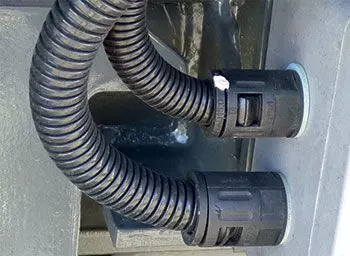 The FLEXAquick® connector system was engineered to provide extremely quick and secure connections to the ROHRflex® polyamide conduit system.  This system is a one-piece, fully-integrated connector that requires no tools or separate pieces to assemble. The connector includes a push-in lock technology for fast assembly and disengaging thus improving productivity up to 5 times greater than traditional methods. All gaskets and locking mechanisms are an integral part of the connector, therefore, reducing termination and assembly time, while ensuring a secure connection. FLEXAquick® connectors' innovative design provides reliable, durable performance while reducing assembly time and eliminating the need for special tools.
FLEXAquick® connectors are constructed of polyamide, making them an ideal connector for cable conduits and equipment in corrosive, high wear, or outdoor environments.
FLEXAquick System
The ROHRflex® cable protection system displays key advantages over the competition, but it is the FLEXAquick® connector that truly stands out. The FLEXAquick® connector is a one-piece fully integrated design that include the sealing and locking mechanism. This will prevent the loss of extra parts as well as cut assembly times, thus saving on cost. With an Ingress Protection of IP68/IP69K and the extensive line of fittings and threads available, The FLEXAquick® connection system will revolutionize your cable protection needs.
Call today to see how FLEXAquick® connectors can help solve your wire and cable protection challenge.
Advantages
Fast assembly & disassembly
Integrated IP68 (NEMA 6P) sealing
Integrated locking mechanism
No components to lose or break
Extensive FLEXAquick connector line
Integrated FLEXAquick Technology

IP68 / IP69K
Sealing Washer
Connector Body
Sealing Insert
Locking Mechanism
FLEXAquick Line
Straight
45°
Curve 90°
True 90°
Flange
Solid Tube
Plug
Y's
T's
Couplings
Reducers
Strain Relief
EMC
Videos & Resources
Visit our Installation Resources for our full listing of videos and our Resource Library for our full offering of product documents.