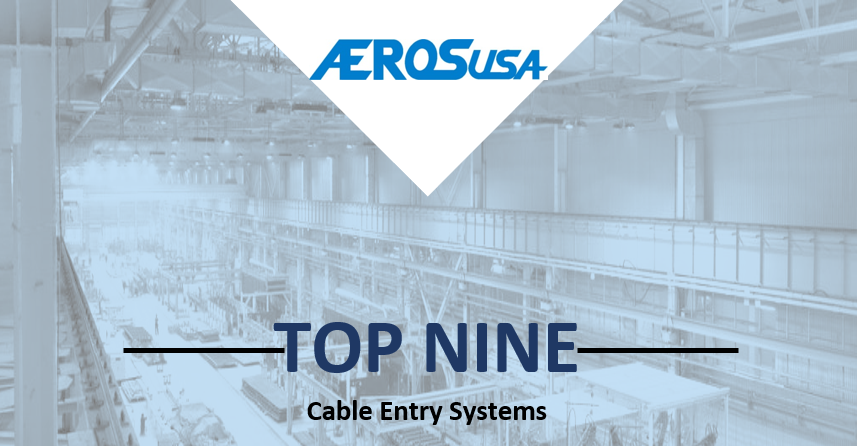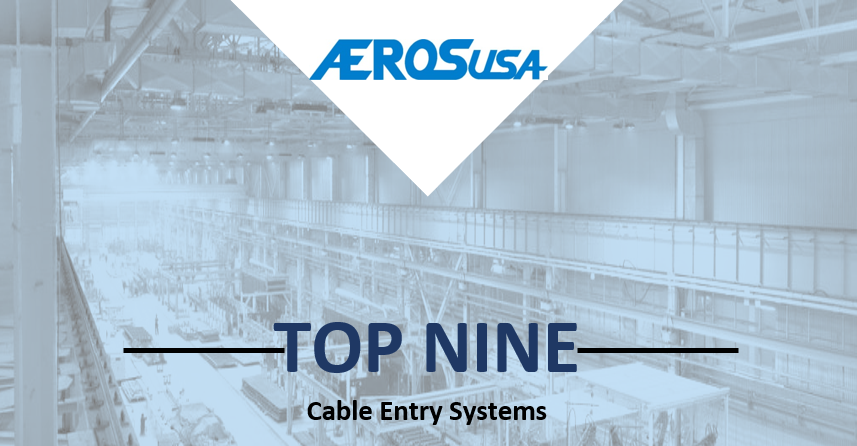 Cable entry systems are a great solution when numerous cables need to be sent into the same panel. With a singular frame, installers and manufacturers can feed through anywhere from one to seventy-two different cables. Cable entry systems also allow for different types of cables to be fed into panels whether those be terminated or non-terminated cables. Both types of cables can be sent through a singular frame reducing cuts into panels and installation time.
Not only do cable entry systems allow for ease of installing cables, but they also help protect those cables and the systems inside the panels. Cable entry systems provide protection up to NEMA 4X and give excellent strain relief.
1. Terminated/Non-Terminated Cables

Tradition cable glands can be a great solution for non-terminated single cables. However, they present problems when there is a need for multiple cables or terminated cables. AerosUSA cable entry systems resolve both of these issues. Our cable entry systems can handle both terminated and non-terminated cables. Our split-frame systems can handle both types of cables in a single frame.
2. Protection

Whenever you are dealing with cables of any type, one of the most important issues is the protection of those cables and the systems they connect to.

AerosUSA cable entry systems provide up to NEMA 4X / IP 66 protection for the systems they are connected to. The systems also provides UL94-V0 flammability protection.
3. Integrated

One of the more frustrating parts of any installation can be all the various pieces involved. AerosUSA cable entry systems have tried to reduce the number of parts involved by integrating the sealing gasket into the frame.
4. Number of Cables

When there are multiple cables going into a single panel, traditionally, numerous holes would have to be drilled into the panel. This leads to increased expenses, lower protection and long install times.

AerosUSA's cable entry systems allow for a large number of cables to be sent though a single frame with a single cutout. Our frames can accommodate up to seventy-two cables in one frame.
5

. Variety

Cable entry systems provide the variety and flexibility needed when feeding cables into a panel. A single split frame system can provide endless arrangements of types and sizes of cables. Cable entry systems also provide a wide variety in their styles.

Styles include: split frames, cable plates, split cable glands, straight, 90 degree, brush frames and ASI cables
6. Installation

Installation of cable entry systems is easy and straight forward. Depending on the style of system used, the installation style varies. The rectangular systems require a rectangular punch out and can either be attached with screws or snapped on. There are also circular options that can be threaded directly onto the panel or pushed through and attached with a lock nut.
7. Availability

AerosUSA keeps an extensive inventory of our cable entry system product line. This allows us to quickly address the needs of our customers in a timely manner.
8. Certifications

Cable entry systems carry a variety of certifications and approvals to meet the needs of a wide range of applications and job types. Certifications include but not limited to:

RoHS, ECOLAB, cRUus, FDA, Lloyd's Register
10. See it in action

When making decisions on any project, especially those that protect the cables providing power and information, being able to test out the product is important.

Reach out today for a sample of our cable entry system to test out for your application.