Specialized conduit systems provide high-reliability cable protection in a variety of medical applications. See how designs for five top devices can be improved.
By George Sims, Vice President
The demand for variety in medical cable protection products is increasing as medical devices continue to evolve with technological advances. These specialized products are designed to extend cable lifetimes, prevent unwanted damage, and to ease the cost of — or even eliminate the need for — repairs. It's important to select the proper medical cable protection system for a given application in order to achieve these benefits. To do so, there are several key attributes to consider, including: high flexibility, fatigue life, abrasion resistance, weight, flame retardant capabilities, compression and impact resistance, resistance to chemicals and solvents, Reach and RoHs compliance, and the absence of restricted or harmful materials, including halogen and cadmium.
1. Endoscopes
Optical fibers in endoscopes are sensitive to pressure and abrasion, and can easily be damaged if not protected properly. The optical fibers in these devices generally require some flexibility for optimal performance, but too much flexibility can damage the delicate fibers. So, specialized conduits were developed to maintain this delicate balance between flexibility and effective protection from environmental hazards.
These flexible, small diameter conduits are characterized by a metallic core manufactured from galvanized or stainless steel and an outer jacket made of non-flame-propagating PVC sheathing or fiberglass braiding with external silicone rubber sheathing. They provide excellent lateral pressure resistance and stretch resistance, are widely resistant to solvents and chemicals, have low flammability ratings, and are free of halogen and cadmium. One of the most common products that's used for endoscopes has an internal helix construction made from stainless steel with an overlay of fiberglass braiding, which is then covered by silicone rubber sheathing to allow for a precise bend radius that will reliably protect internal fibers from potential damage.  This precise bend radius also prevents the bend loss that could result from exceeding the maximum bend tolerance of the fiber optic cables.
2. In-Office Portable Medical Equipment
In hospitals, cables attached to critical medical equipment, ranging from patient monitoring and treatment devices to hospital beds and communication equipment, is frequently stepped on and rolled over as technicians, nurses, and other hospital personnel interface with patients and move stretchers, wheelchairs, portable medical equipment, and food service carts around. So, it is imperative that the cable protection systems used in these environments are impact resistant and crush-proof to adequately protected against damage, as well as flexible enough to accommodate use on portable medical equipment and allow for sufficient movement when snagged by a shoe or a wheel.
Based on these criteria, conduit systems made of polyamide materials are ideal solutions, as they are designed to offer both effective impact resistance and maintain a high degree of flexibility. Another key attribute of these conduit systems is their ease of assembly, which not only reduces labor requirements for manufacturers and installers, but also saves time, which directly equates to dollars saved on the production or hospital floor.
3. Mobile MRI Trucks
There are also several specific design criteria that need to be taken into consideration when protecting the cables in mobile medical equipment, like mobile MRI trucks. Due to space constraints, safety concerns, and the need to keep overall vehicle weight to a minimum, mobile medical equipment designers should consider lightweight conduits with fire safety elements, such as low smoke, low toxicity, self-extinguishing properties.
Polyamide conduit systems are well suited for meeting these criteria as well. These systems are lighter in weight than traditional, metallic, liquid-tight conduits, and have been developed using UL94 V-O materials, which provide the highest flammability ratings possible. They are also available with optional EMI/RFI shielding, which can be critical for protecting data transmissions and critical circuits in vehicle equipment from EMI/RFI interference. Shielded polyamide conduits used in applications that are protected from the elements can be configured with an external tin/copper braided shield, and those used in exterior applications, where the overall system needs to be protected from rain, dirt, road debris, or other outdoor elements, can be configured with internal shielding.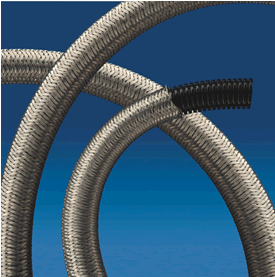 4. Instrumentation
As instrumentation in today's medical environments continues to get smaller and smaller, the need for specialized small diameter cable protection systems is paramount. Stainless steel conduits with protective coatings designed to withstand environmental influences are now available to satisfy the demands of these critical applications. One of the most popular such coatings is silicone.
Silicone rubbers are synthetic polymers with an unusual molecular structure. This structure has unique performance properties, including biocompatibility, which means that it exhibits superior compatibility with human tissue and body fluids. Silicone rubbers are odorless, tasteless, do not support bacteria growth, and will not stain or corrode other materials. They can also withstand a wide range of temperatures, have high tear and tensile strength, are nonconductive, and exhibit excellent chemical resistance that allows them to stand up to ammonia and isopropyl alcohol, both of which are commonly found in hospital environments. Ultrasound and surgical imaging equipment are ideal applications for these specialized conduits.
5. Power Wheelchairs
Advanced electronic technology and market demand has led to an increase in the variety of wheelchairs designed for various mobility and rehabilitation purposes, and has significantly increased the challenges engineers face when developing mobility equipment designed to help handicapped people live their lives to the fullest. Many of these vehicles are made to be used in indoor, as well as outdoor environments subject to high UV radiation, rain, mud, debris, and other potential hazards. As such, the cables on these vehicles require more environmental protection than ever before. This has led to the development of cable protection systems that are lightweight, extremely flexible, offer robust impact protection, and have an IP66 or IP68 ingress protection ratings, as well as high UV stabilization. Many of these conduits are also made from UL94 V-O materials imbued with flammability modifiers to achieve the highest flammability ratings possible, and are available in high-flex versions designed for continuous or high motion applications.
Across the Board Benefits 
Specialized conduit systems provide high-reliability cable protection in a variety of medical applications that extends well beyond those discussed herein, including: laser technology, fiber optics, sensor and measurement equipment, and much more. High-quality cable protection systems hey offer a range of flexibility to suit application-specific demands, are stretch resistant, and have outstanding resistance to solvents and chemicals. Their ROI is based on saving time during installations, saving space in tight applications, increasing the longevity of the systems on which they're installed, and easing, if not eliminating, cable maintenance, which, combined, ultimately saves critical dollars and positively affects overall profitability.