Seemingly every industry is moving towards eMobility and electric vehicles.  Companies such as Tesla have lead the charge, but now all of the major auto manufacturers are coming out with electrified versions of their long standing industry models. Ford has the F150 Lighting, an electric version of their popular F150. GMC has recently launched the GMC Hummer EV bringing back the very popular GMC Hummer now in electric. Toyota has the bZ4X to go along with a list of hybrids, Honda has the Prologue SUV, Chevrolet has the Bolt, Blazer and Equinox. Most if not all of the luxury automakers such as BMW, Audi, Mercedes, etc. have their own electric vehicle lines as well.
The move towards eMobility, however, is not confined to the consumer vehicle market. eMobility has made the way into public transit and heavy duty construction vehicles. In the busy industries, all of the largest manufacturers (BYD, Proterra, New Flyer, Gillig, etc.) have designed electric models of their busses. In the construction industry both Volvo and Caterpillar have come out with electric versions of their standard equipment as well. Both announcing electric front-end loaders and backhoes. In the freight transportation industry numerous companies are designing and building electric semi-trailers. Mercedes-Benz and Volvo have both announced electric semi-trailers along with a few startup companies attempting to join the establish leading manufacturers.
A shift from traditional gas and diesel vehicles to electrified versions means an increase in standard and high-voltage electric cables running throughout the vehicles. This increase also leads to an increase in the need for EMC (electromagnetic current) shielding protecting the sensitive signals inside the vehicle. In order to protect these cables and the signals running inside or outside of them, there is a high demand for products that withstand the test of time and the wear and tear of some of these tough industries.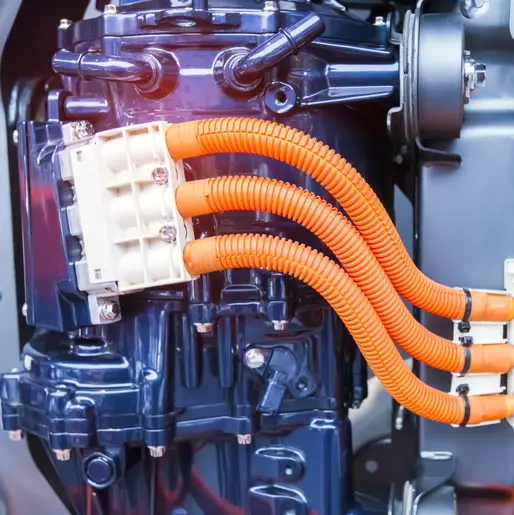 Conduit and Sleeve Protection
Light, flexible and easy to fit, corrugated plastic conduit is used in many industries. When plastic flexible conduit is made with polyamide, it becomes even more versatile. This advanced polymer possesses valuable properties such as resistance to heat and chemicals, making it a viable option for demanding industries such as the eMobility industry. It is also certified to the fire protection standard ECE-R 118.03, annex 7 and 8 meeting regulatory standards for materials used in passenger transport.
Manufactured in signal color orange, ROHRflex PA 6-L, is ideal of protection high-voltage cables. The orange sets the conduit apart from other standard black conduits identifying the cables inside as high-voltage.
Some applications do not require the degree of protection a polyamide conduit can provide in terms of durability or ingress protection. When the need to to simply protect and identify the cables as high-voltage from wear and tare, braid and sleeve protection can solve the need. HG-PET025 and ACN are two of these options which provide fantastic protection for the cables inside. FBW is a protection option allowing installers to wrap their cables after installation. Even as a wrap solution, FBW is still able to provide dynamic cut and abrasion resistance.

Cable Glands
The EVolution EMC is not a typical EMC cable gland as known from industrial applications. In fact, it is very different – the best of both worlds: A top-quality cable gland, but easily disconnectable. Quick and easy to use, yet designed for the highest shielding currents, for all high-voltage cable types and for all engine-power classes.  The EVolution gland provides full 360 degree connectivity thanks to a crimped shielding connection. Ideal solution for EMC protection in rough environments exposed to the elements and high vibrations.
These two EMC cable glands are built and designed to meet the needs of most EMC situations. Unlike the EVolution EMC, these cable glands are traditional in style where the cable is held in place via a compression sleeve or a contact spring. powerConnect holds cables firm with a compression sleeve providing low transfer resistance and excellent sealing performance. easyCONNECT uses a spring along with a compression sleeve providing low contact resistance and high ingress protection. Both options provide a wide range of entry thread options for different applications.

No matter your cable protection need, AerosUSA is here to help. Contact us today!